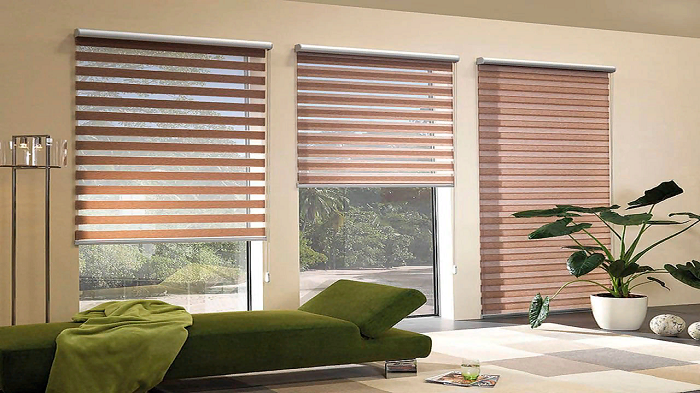 29 Jun

Blinds in living quarters

If curtains and curtains made of fabric seem hopelessly outdated to you, you can use such modern material as blinds to decorate your apartment. This is a light, convenient and practical device that attracts with its price and is often used by designers when developing interiors. In addition, the use of blinds allows you to save some space in the room. However, when choosing blinds for various rooms of the apartment, some subtleties should be taken into account.

Article description:

Types of blinds

Modern blinds are available in several types and have many colors. Classic options are vertical and horizontal. They can be made of metal, plastic, fabric or wood. The latter option, however, is significantly more expensive. Classic blinds provide reliable protection from the sun, and have the ability to control the light flux. Roller blinds or shutters are a sheet that is rolled up in a roll at the top of the window. They are easy to use and easy to care for. Roller shutters with an original pattern or an unusual color combined with a modern interior will emphasize the interesting design of the room.

Of the latest innovations on the market, triangular blinds have appeared. They are light-diffusing, reflective and completely isolating from light. Can be mounted on the ceiling, wall or directly on the window. Triangular blinds are available in a variety of colors. For a balcony, blinds will be the most successful option. They will protect your home from the scorching sun and at the same time create an aesthetic appearance. In addition, blinds are more reliable and durable than ordinary curtains.

A variety of types of blinds will allow you to choose the best option in each case. For decorating a nursery, vertical blinds are most often used. With the help of a combination of patterns and textures, they will allow you to turn an ordinary room into a fairy-tale land. For this room, it is first of all important that the blinds are hygienic and safe. Because the best option for the nursery will be plastic blinds. They are easy to clean with detergents. Also, their advantage is that they are not able to absorb dirt and moisture, which will not lead to the development of pathogens or fungus.

In the nursery, it is undesirable to use blinds that will be too dense or dark. Lack of sufficient lighting can adversely affect the baby's vision. In the bedroom, the main task is to create optimal conditions for a relaxing holiday. Therefore, windows must be protected by light and soundproof material. Roller blinds meet this requirement most fully. They are quite dense, therefore they provide reliable protection from light and temperature changes. For the manufacture of such curtains, special materials are used, coated with dust-repellent compounds, therefore roller shutters are extremely practical.

Selection of blinds

The choice of blinds in the living room provides maximum scope for imagination. When choosing textures and colors, you should first of all focus on the general style of the interior of the room. Plain vertical blinds go well with high-tech style. For an eco-style living room, light roller blinds with a delicate pattern will be a good addition. And the combination of fabric blinds with curtains and a massive cornice will harmoniously fit into the classic interior.

The most demanding room when choosing blinds is the kitchen. Kitchen blinds must be heat and moisture resistant, and must not absorb grease. It is also desirable that they be easy to clean. If you definitely want to buy fabric blinds, be sure to find out if they are treated with a special compound that gives moisture resistance. But it is still better to opt for solid materials, such as metal or plastic.