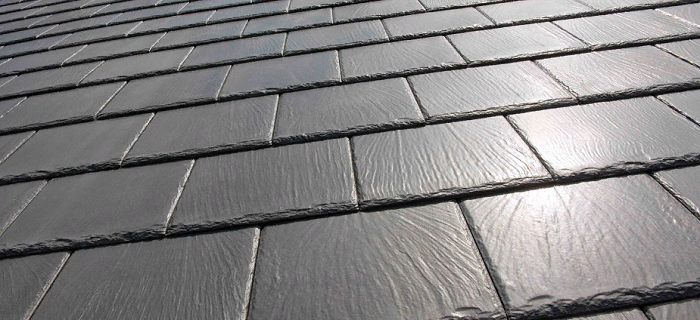 27 Jun

Euroslate features.

Euroslate – high-quality roofing material.

Thanks to developing technologies, building materials are constantly changing. Plastics and polymer alloys are increasingly becoming part of our lives. The construction industry uses roofing materials that help reduce installation time and save construction costs, as well as provide reliable weather protection and have a long service life. Euroslate can be safely attributed to such materials. In the post-Soviet space, it is also called ondulin (the name of a well-known trademark). Euroslate is only visually similar to its "predecessor" – asbestos-cement slate. It has a similar shape and profile of the sheet, in all other characteristics it is many times superior to it.

Euroslate is an environmentally friendly material for roofing, it does not harm health, does not emit harmful vapors into the atmosphere, unlike asbestos slate. It consists of glass-polymer canvases and pulp and cardboard fibers, which are impregnated with bituminous mass at high temperature. The outer layer is impregnated with resin and mineral dyes that do not fade from exposure to sunlight. Such sheets are pressed in stages, in several steps. Sheets acquire a multilayer structure and become more durable. The seemingly fragile material is able to withstand huge loads (up to 300 kg of weight per square meter). Thanks to the use of plastic materials, euroslate is quite flexible – this allows it to be used in vaulted roof structures.

Euroslate in Odessa is used on roofs with a slope of 10 to 85 degrees. If the slope of the roof is from five to ten degrees, use a solid wooden or metal crate and increase the overlap: longitudinal by 2 waves, and transverse up to 30 cm. With complex roof structures, the amount of material needed will increase, since a lot of material will be spent on trimming. Euroslate can be easily sawn with a hacksaw or a circular saw. Due to its relatively small weight and dimensions, it is quickly laid on the roof even alone. Euro slate is fastened to a wooden crate using nails, and if mounting on a metal crate is foreseen, self-tapping screws are used, which are twisted with a screwdriver.

Euroslate is the latest material for roofing roofs of both private houses and large industrial buildings. It has proven itself as a reliable coating for a new roof, and is also widely used in the reconstruction of an old one. Euroslate can be laid directly on top of the old roof without dismantling it. Operating temperature ranges from -50 to +50 degrees, slate can withstand wind gusts up to 180 m/s. The guarantee for euroslate is 15 years, but with proper installation, a roof made of euroslate can last up to 50 years. At the end of the operational period, it can be recycled.

When choosing a Euro -shifter, it is worth selecting its shade and color, which will best in harmony with the general design of the structure. When buying, it is worth paying attention to the fact that in the assortment of manufacturers of the European Shifter there are various elements of the roofing system. In addition to the sheets themselves, it can be fasteners, cornices, seals, ridge elements, etc.

Currently, many domestic and imported manufacturers offer their products on the Euro -Shifle market: Ondulin (France), Gutta (Switzerland), Bitwell (Germany), Ondura (USA), Bioleine (Ukraine) and many others.

From all of the above, it is safe to say that Euro -shifer is an inexpensive, practical, reliable and environmentally friendly roofing material, which is quickly and easily mounted. It will be able to serve for a long time, while coping with its main task with high quality, providing coziness and comfort in the house.