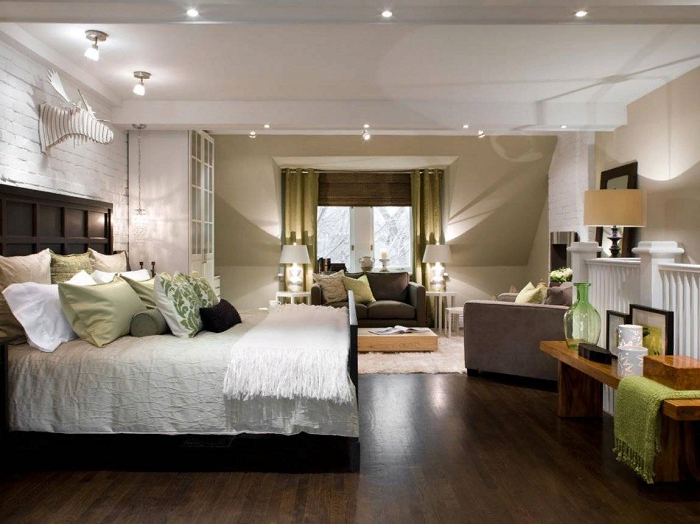 14 Jan

Lighting in the bedroom

A very important factor is the correct organization of lighting. So that during the daytime you have the most light, do not place tall and bulky cabinets next to the window, it is better to put them somewhere in a corner or in a niche, and place a dressing table, on the contrary, near the window.

Bedroom lighting at night

At night, it will be necessary to use lighting devices powered by electricity, which should also be different and with different multifunctional qualities. The main lighting should create a very bright light, but also it should not be intrusive.

This effect can be achieved by using a simple matte shade. And, it's even more interesting and effective not to use a chandelier at all, but instead to place a couple of lamps on the wall surface in this way, the streams of light will be reflected from the ceiling surface.

If, with all this, the surface of the ceiling has a bluish color – a light palette, then the effect of a bright sky above your head is created. Orange luminaires can be placed on the level difference of the false ceiling surface.

Sometimes there are moments when the general lighting needs to be made dim, only slightly illuminating the room. To achieve this, it does not hurt to install rheostat switches to smoothly control the brightness of the light.

Lighting in the bedroom: lighting fixtures

It will also be great to complement the overall picture with less bright local lighting fixtures. One of these lighting elements must be placed in close proximity to the bed in order to get up at night if necessary, you would not have to get to the main lamp in the dark.

It can also be used for comfortable reading. If the bedroom is designed for two people, then it is best to put 2 lamps. You can install a separate lighting element near the closet where clothes are stored, so as not to wake up your loved one with bright lighting in the early morning.

Lamps near the dressing table must be made with directional lighting, since with directional lighting all facial features are much better visible.

This article discusses only the general features that need to be considered when creating lighting in the bedroom. In order to achieve an attractive effect when creating an interior in a bedroom, it is best to contact a professional designer.

You will only need to provide the designer with a list of your wishes, he will provide you with several design solutions and choose the one you like best.

You can skip reading the entries and leave a comment. Posting links is prohibited.