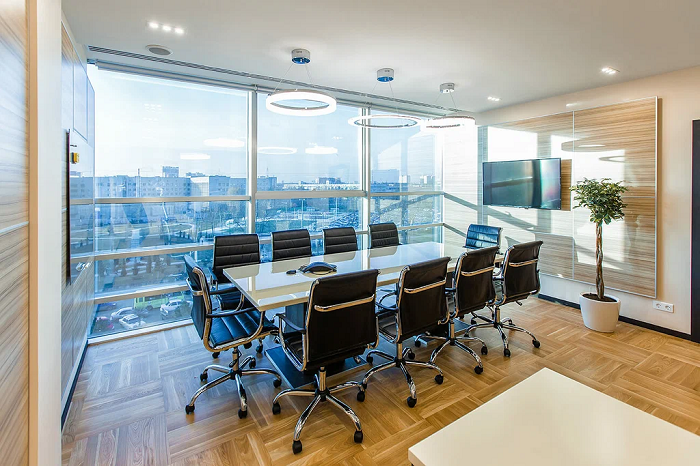 07 Jul

Luxury commercial real estate: office buildings

Walking around the center of Moscow, you probably noticed that a lot of old buildings, and even new buildings, stylized as historical mansions, are used not for Muscovites to live in them, but as premises for offices. The fact is that although old buildings look beautiful and create a special surroundings, allowing you to briefly look into the past and see how our capital used to look, they are far from always suitable for comfortable living in them and their reconstruction, redevelopment and adaptation to modern conditions. not always justified. But in order to convert this room into an office, of course, you will also have to make a lot of efforts, but still this process will be an order of magnitude easier and faster. Due to its significant internal space and a very convenient location in the city center, the opportunity to purchase or rent an office space in such mansions attracts many companies. What is the specific use of these premises? What are the advantages and disadvantages of such mansions over modern business centers? Well, and, of course, as always, what is the price of the issue of renting and buying such areas?

When choosing a place for your future office, the area required for it, the level of technical equipment are of great importance, and one of the most important requirements is a convenient territorial location for both the company's employees and its customers. After all, it is no secret that organizations located in the city center inspire more trust among potential customers than those located in remote residential areas, the process of visiting which requires a lot of effort and patience. The mere fact that the company is ready to invest in an expensive lease or purchase of premises in the city center already speaks of the seriousness of its intentions and its strong position in the market. So, to maintain a positive image, the location of the office in one of the beautiful historical mansions in Moscow plays an important role. Taking into account the fact that there are a very limited number of such mansions in the center of Moscow, this type of commercial real estate is very popular among large international European companies, commercial banks, various investment organizations, restaurants, law firms, large travel agencies. This option is also chosen by companies that need a separate building in order to ensure the maximum level of security. Therefore, many consulates and embassies are located in historic mansions, although in recent years there has been a trend towards their relocation to modern buildings.

Office buildings are located mainly within the Garden Ring in the areas of Tsvetnoy Boulevard, Zamoskvorechye, Khamovniki, Sukharevskaya, Kuznetsky Most, Chistye Prudy, Pushkinskaya and Kurskaya. Sometimes there are variants of office mansions located outside the Garden Ring. But there are very few such offers and they make up about 5% of the market, not being particularly popular among potential tenants and buyers of this segment of luxury real estate. Given the peculiarities of the territorial location, the cost of buying and renting a square meter of such real estate cannot be cheap by definition. And due to the uniqueness of these objects, this cost significantly exceeds the options for office space in modern business centers and ordinary administrative buildings that are similar in area and territorial location. The average cost of renting a square meter of one of the central mansions starts at about $700. So the cost of renting a small office with a total area of ​​477 square meters in the area of ​​​​the Baumanskaya metro station is 850,000 rubles, excluding utility bills. And a modest (only 245 square meters) historic mansion on the Arbat is rented at a price of 33,000 rubles per square meter.

What are today's office mansions? It should be noted that among realtors there is no unambiguous understanding and clear definition of the concept of "mansion". The largest Moscow luxury real estate agencies include historical or antique-styled low-rise (usually no more than five floors) detached buildings with a total area of ​​300 to about 5 thousand square meters as mansions. The most popular option among buyers and tenants in terms of area is 500 – 2500 square meters. This area is optimally enough to accommodate an office building, a bank branch or a restaurant. A characteristic feature of office buildings is the utilization factor of usable area, which is lower than standard administrative premises, which ranges from 60 to 80% against the standard 85-90%, which further increases the real cost per square meter of actually used area. The building, as a rule, has its own fenced area, the passage to which is under the control of the security service.

There are other approaches to the definition of the concept of "mansion". A number of real estate professionals are trying to include them in the modern classification of all office buildings, which are divided into categories A, B and C. However, relatively small areas and the current level of technical equipment, which has its limitations for installation in old buildings, does not allow this selected segment of elite commercial real estate to be fully included in these categories. Because according to these parameters, mansions fall into category B, although in terms of prestige and price range they fully correspond to category A. There is another approach that singles out mansions as a separate type of real estate and implies their internal classification depending on the period of construction and the possibility of adapting the internal structure and layout of the building to modern operating conditions. But still, from the point of view of real estate experts, the very first approach would be more correct, which does not try to standardize and classify mansions, but singles them out into a separate independent category.

The main disadvantage of historical mansions is the lack of underground parking, which is very noticeable, given the existing problem with the lack of parking spaces, especially in the city center, and serious restrictions on redevelopment and refurbishment of interior spaces that are considered architectural monuments. The mansions, which have been given the status of architectural monuments, are subject to rather strict requirements for their maintenance and preservation by the Moscow Committee for Architecture. These requirements relate to both maintaining the facades of the building in an unchanged state, and a ban on making changes to the interior interiors, in which it is necessary to somehow organically fit the life of a modern office with its accompanying office equipment and safes. In addition, the cost of permitted reconstruction work can sometimes exceed the cost of the mansion itself. Therefore, most organizations still prefer to consider for themselves the option of renting, rather than buying such premises. In this regard, the option of using the recently constructed pseudo-old mansion, which is equipped with all the necessary modern communication and engineering systems, is more advantageous, and is an option of free or most effective planning of the internal space.

There are very, very few new buildings among mansions, since in the center they can only be built on the site of demolished old buildings. At the same time, investing money in the construction of a small building is not as profitable as building a modern business center on the same site, the area of ​​\u200b\u200bwhich can be successfully leased to a much larger number of tenants. The percentage of newly built mansions does not exceed the threshold of 10-15%. One of the largest projects to date for the construction of a business quarter, which also includes a detached mansion, is Smart Park, located in the South-West of the capital. This quarter it is planned to locate the front offices of such market leaders as Gazprom, Volkswagen Group, John Deere, Novatek, Russian Diamond Company, Gazprombank and some others.

The mansion has an original stylization for a historical building, huge panoramic windows, layout in the popular Open Space format, individual entrance, separate entrance groups and own underground parking. The cost of the mansion is not advertised and is discussed with a potential client individually.

Two more modern office mansions called "Oxford" and "Bradford" were built near the Baumanskaya metro station and represent interesting architectural and planning solutions that combine all the necessary modern engineering systems and magnificent exclusive decoration made from natural materials. So the choice among modern buildings today, although limited, is still there. If you wish, you can choose truly exclusive options for yourself.

Summing up, we can conclude that office buildings represent a special category of elite commercial real estate. They have their own specific features and characteristics. It is not so simple to become the owner or tenant of such a mansion, given the uniqueness and unity of such proposals in the modern real estate market. First of all, this type of real estate is suitable for companies that are important to emphasize their status and prestige in the eyes of customers. Today you can choose a real pre -revolutionary mansion or modern building stylized under the old days. It all depends on your real needs. Good deals to you!