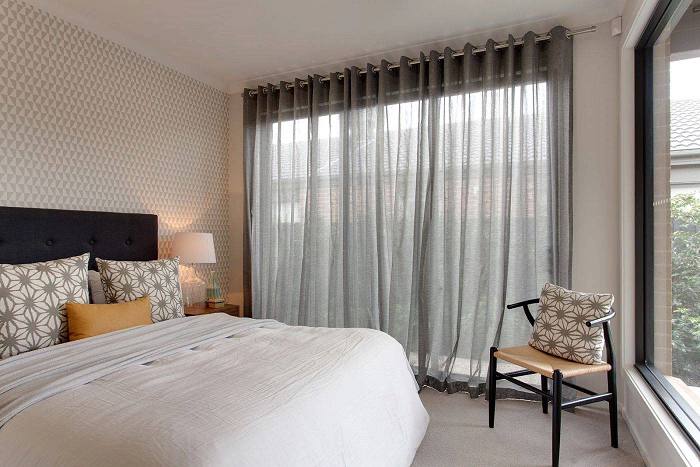 15 Jun

The choice of curtains for the bedroom

In every house, the bedroom is one of the main rooms, and therefore the interior of this room should be given special attention. The bedroom is designed for a full and long rest, it should be dominated by an atmosphere of peace and harmony. The main element of the design of the bedroom, creating comfort, are curtains.

The presence of curtains in the bedroom is especially important – after all, the leading role in the interior of this room belongs to textiles – pillows, bedspreads, curtains, lambrequins and much more.

When choosing, it should be remembered that, in addition to the decorative function, the curtains protect the room from the sun's rays, providing a sound morning sleep.

As for the choice of the preferred color scheme, calm colors of predominantly light shades are best suited for the bedroom. As a rule, curtains are chosen to match the bedspread – this way harmony and completeness of the composition is achieved, however, it should be noted that the tone of the curtains must necessarily differ from the color of the walls, otherwise the room will turn out to be too monotonous.

If the bedroom is too brightly lit, then draperies and deep folds will help to slightly reduce the amount of light. Light translucent curtains, for example, from organza, will help to visually increase the size of the room and give it some airiness.

Modern options for finishing curtains for the bedroom allow you to decorate it in any style. Bandeau and perekida, tassels and fringes, curtains on rings, various forms of lambrequins help to realize any fantasies. Exclusive models of curtains, harmoniously combined with luxurious oriental canopies and a large number of decorative pillows, can turn an ordinary rest room into an Indian Raja's bedroom.

Nowadays, great attention is paid to environmental friendliness, so curtains made from natural fibers, such as linen, are in great demand. Curtains for the bedroom are made from a variety of fabrics, the most common are silk, rep and jacquard. These fabrics are easy to wash, do not shrink and hardly wrinkle, and therefore always look fresh and tidy. Window decoration can also be combined, that is, from several fabrics, it all depends on the chosen design style and the taste of the owner of the apartment. For different seasons, different options for curtains are preferred – in winter, dense and soft ones will be the best option, and in summer – more airy, lightweight.

The choice of models of curtains for the bedroom is unusually large, you can safely experiment using fabrics of different textures, changing the color scheme and tint palette, using various methods of decorating. However, we should not forget that the main function of the bedroom is rest, relaxation, and a well-chosen textile interior will create the necessary comfort.